Dealing with electrical installations is one of the toughest assignments in a household. It can be plain dangerous. If you are unsure of what should be done you are better off calling our company and hiring us for electric assistance. We have experienced electricians with plenty of knowledge in this field. With us you have plenty of options as we can connect together a whole electric network of a brand new building but at the same time you can hire us for repairs. We are giving you the most affordable rates in the area. Also, the more technicians you need and the more man hours required for your project to be accomplished, the more money you save. We are fully licensed and have permissions to work with all sorts of supplies and tools in any type of environment.
Safest electrical services in London
We also insure our own electricians so that our clients have nothing to worry about during a project. In the event of an accident we are the ones to cover all the damages and the client is completely protected in terms of liability. We are also fully licensed so that you can prove at any point that we are the company to have done your electric instalment. The two conditions mentioned above are imperative for every organisation offering electrical services. Thanks to our excellent paperwork you can rest assured that you will have a completely hassle-free help. We can do electrical services at:
Houses
Flats
Business facilities
Sheds and wagons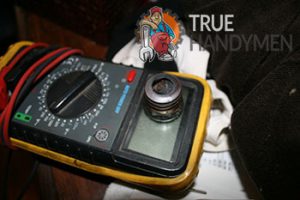 When it comes to the technical part we are indeed second to none. You are guaranteed to get electrical service in compliance with the highest of standards. The quality of each electrical system is most determined by its safety. This is also our priority. Our technicians will make sure there are enough sockets for appliances in order to avoid the use of multiway socket adapters. You can also opt to have additional protection in case you have young children living with you. We can prevent fingers from coming into contact with open sockets. Earthing is also an essential part of our job and when properly done it makes sure there are no electric shocks or short circuits. We know exactly how to mount fuses and circuit breakers so that in the event of an accident, no electrical fire occurs. Residual current devices are also mounted in order to make sure no fatal shocks can occur if a person gets in contact with something live.
We also believe an electric installation should look visibly pleasing. With us you are guaranteed to have clear schemes along with nicely arranged cables by colour and number.
Our technicians also constantly undergo new training sessions in order to stay up to date with the latest trends in our field. You will always be getting the best safety and energy saving tips when you become our customer. We also constantly upgrade our own supplies and this means that our clients always receive the finest electrical equipment installed. It save energy and is exceptionally cost-effective.