Going away for a little while is a perfect idea but it also requires some preparation and even some financial planning. But let us assume you have already picked a location, bought tickets and the only thing left is to decide on how the packing will go. There is one more thing you can consider. Depending on the length of your vacation you might want to have someone trustworthy over in order to make sure your place remains intact. Many people actually prefer having handymen taking care of renovation projects while they are on a vacation. If you are looking to have new framing installed or furniture built in you might want to do that during your absence. Many times having handymen over renders your home unusable for the time being and if you are not there, it might be convenient. And the best part is that you can trust them. They are usually fully licensed and have insurance. This means you do not need to be there to watch over them all the time. If anything goes wrong you will have the paperwork to go after them. So don't worry about that – pack your bags, call your handymen to fix that finish on the window frame and go on a vacation.
Picking the right bag size will make a difference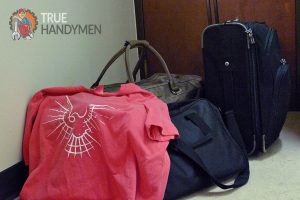 You have a number of options when it comes to choosing a suitable bag. Some people go with suitcases and this actually might be a nice idea. What matters is the type of transportation you will travel by. If you are going away with your own car then the number of passengers matter. In case you have a big family then your trunk will likely be too small for huge bags. So getting one sports bag full of things is going to have to do. In case you travel by bus then a huge suitcase will perhaps be permitted. Airplanes usually have a limit on the number of suitcases you can carry as well as the weight of each piece.
All of the above goes to show you that you need to plan carefully what you will put in your luggage as you simply cannot take everything you want. Some folks go on vacation as if they are having a domestic removal. Decide what will be useful during your time off and take it. If you are unsure about some items, you better leave them behind.
Some sizeable things will mostly be in the way. If you are staying at a relatively nice hotel then you probably do not need your hair dryer. Hotels provide them and if you are going camping than maybe just wiping your hair after a shower will suffice. You should also be able to survive without your lap top for a few days unless you run a tight business and need to answer mails regularly. Make sure you do not forget your toothbrush and other cosmetics. You wouldn't want to buy new ones just to use them for a few days.